In this article, we would like to introduce to you several activities that will allow you to enjoy Kyoto 100 times more!
As Kyoto is becoming more and more of a popular tourist spot, there are a lot of new and fun activities that are emerging for tourists to indulge in.
Today we will be introducing some activities for you to try out around the Toji area, which is known for its Five-story pagoda, and for being close to Kyoto station.
Recommended Picks! Carefully Selected Activities That Let's You Enjoy Kyoto's History and Culture
When visiting Kyoto, it is no doubt you would want to get the full experience of the ancient city.
We have carefully picked out our top 5 activity choices that will allow you to get a taste of Kyoto's rich history and culture.
Kimono Rental and Photoshoot in front of the Five-Story Pagoda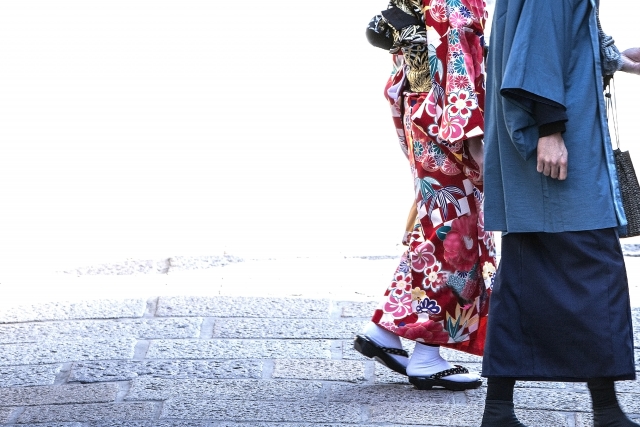 The Japanese cultural attire, kimono, have been gaining more and more attention throughout overseas.
Because Kyoto if filled with tradion and culture just within the streets, many tourists love to walk around the town wearing kimonos, as you can get a special feel, a bit different yet unique from your usual trip.
It may be difficult to put on a kimono properly yourself, so here we will introduce a rental shop where you don't need to bring anything and they will help you put on a kimono!
At this shop, you can choose a kimono and the staff will help you put in on, including hair and makeup set for only \3240.
No need to bring anything to the shop! Leave the store in a kimono attire and walk around all day in it!
Located only 2min away from Kyoto station.
From choosing your favorite kimono to leaving out the door, the whole process only takes about 20min! More time to explore the city in your new outfit!
着物レンタルVASARA京都駅前店(エルイン京都内)
After you're fully dressed in your kimono, get on the train and head to Toji Temple!
From Kyoto station, take the Kintetsu Line and Toji Temple, famous for the Five-Story Pagoda, is only one stop away.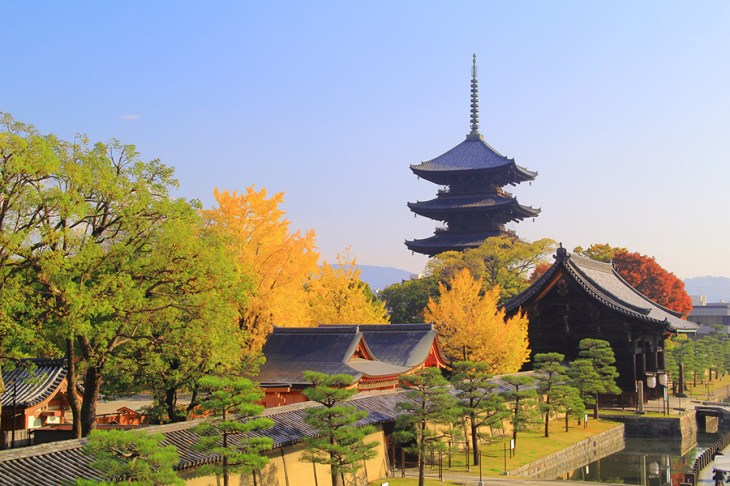 Stand in front of the Five-Story Pagoda for an instagram-worthy shot!
This spot is recommended because there aren't too many people around, making it easier to walk around in your kimono.
Kobo Market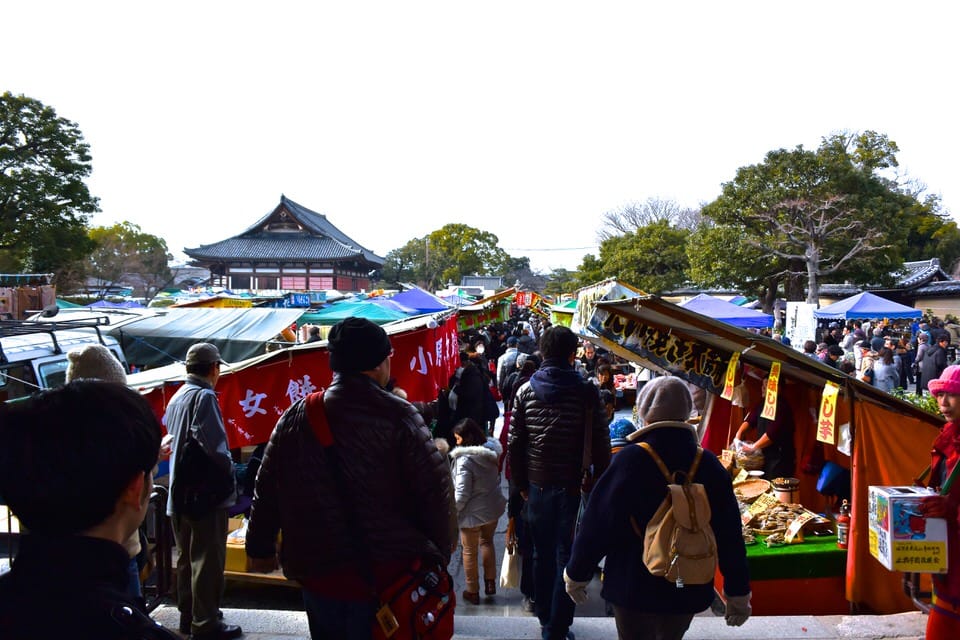 Many large temples hold festivals on certain days of the month.
In Kyoto, one of the most well-known is the Kobe market held on the 21st of every month.
Every 21st of each month, the market is open from 5AM to 4PM.
People from all over the world, including the young al the way to the elderly like to visit this market and purchase rare and unique goods.
You can find almost anything at the Kobo Market.
What's so special about this market is that authentic traders and craftsmen come out with their special products and sell them here. So you know you can find high-quality, unique, hand-crafted items that you can't find anywhere else.
There are always around 1300 shops out, so you know you're bound to find something you like!
Click here for Kobo Market's Homepage
Antique City (Junk Market)
Interested in Kobo Market but already have plans set on the 21st?
No worries, we have another recommended event for you to check out!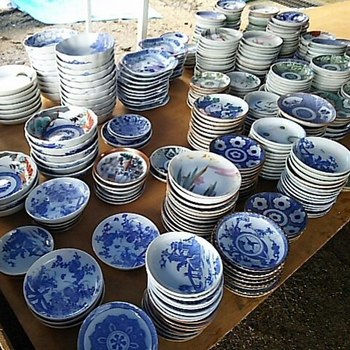 Like Kobo Market, this event is also held at Toji temple.
Junk Market is held on the first Sunday of every month.
Here you can find lots of antique goods ranging from retro paintings to traditional styled tableware. There are many items from past decades, kimonos, and miscellaneous goods from overseas. Some stores display items that really look like junk, but walking around and seeing all the goods can be a fun experience in itself.
There are many items that aren't expensive, including real antiques, so it's very affordable.
This market is smaller in size compared to Kobo market, so those of you who love antique goods can find it easier to roam around, thus this market is highly recommended.
The market opens from 5AM to 4PM, the same time as Kobo market.
If you happen to have some free time during your trip, why not stop by this market?
Shoujinku
Already booked for plans on the 21st and the first Sunday of the month?
At Toji temple, every morning there is a religious morning ritual that you can go check out.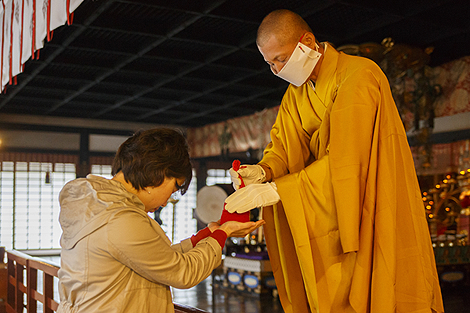 Shoujinku is a ritual practice of offering breakfast at 6AM every morning to the great Japanese priest, Kobo Daishi aka Kukai, on the basis of the faith that he is alive.
It is believed that if you worship this, there is a benefit of being protected from illnesses.
You can experience hearing the monks read the religious passage simultaneously.
Although it is quite early in the morning, breathing in the fresh morning air and strolling in the quite area can be a relaxing and worthwhile experience in itself.
Sutra Copying
For those of you who are not an early bird, why not try out the sutra copying experience?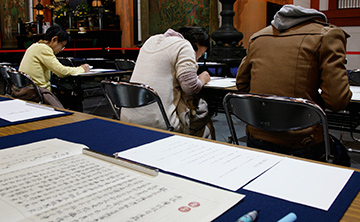 This activity is held in the dining room of Toji temple. This room is used for monks to go through with their own training.
By transcribing the sutra word by word, it is known to have the same effects as praying. Writing out the lines of calligraphy can help put you in a better state of mind.
You may leave your finished product at the temple or take it home and use it as a form of goodluck charm.
Operating Hours: 9AM~3PM
Head to the dining room for application.
Fee: \2000
Click here for the homepage.
Summary
How were these recommendations?
Toji temple is a place where you csn experience a lot of Kyoto's rich history through various activities.
For those of you who want to get a full day's worth of experience of Toji temple starting from the eary morning, why not stay at a beautiful hotel right in front of the templ itself! You can see the Five-story pagoda through your bedroom window and is a very convenient place to stay for travelling in Kyoto.
The garden hotel premium Toji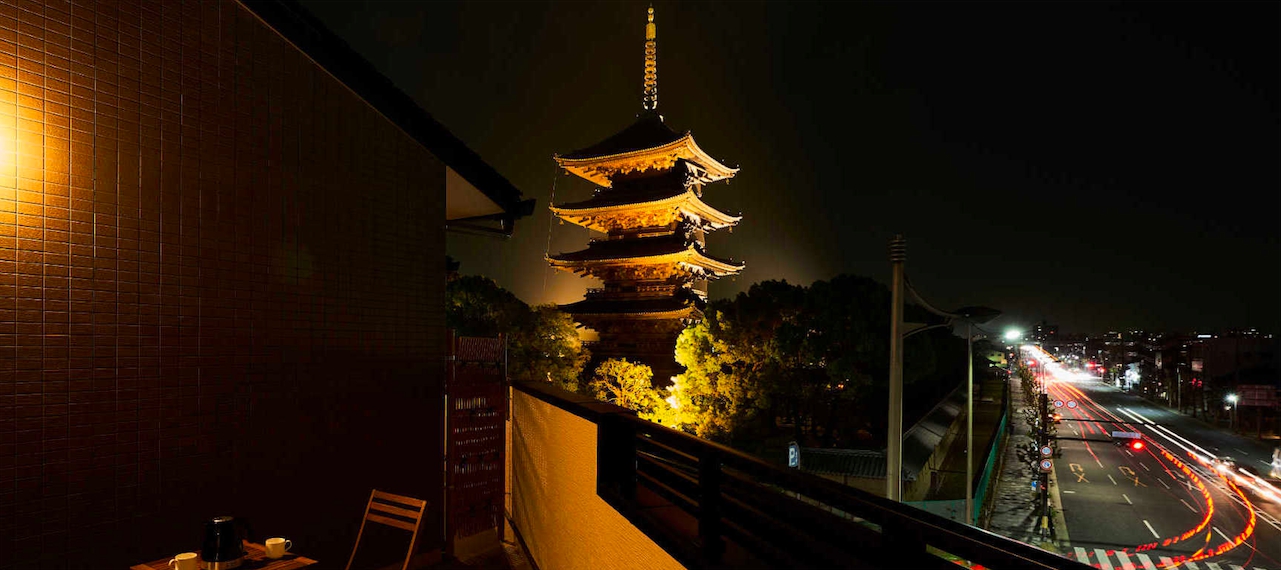 Click here for the hotel link!