Kyoto is a place that is becoming more and more popular within foreign tourists, and the number of visitors is rapidly increasing. As Kyoto is also an attractive place for Japanese tourists, the number of hotels and guest houses are growing.
We often receive feedback that the average prices are quite high, and it can be difficult to choose where to stay as there are just so many to choose from.
Because Kyoto is an unfamiliar area, many new visitors often end up choosing a place near Kyoto station.
However, in order to fully enjoy and tour Kyoto, we all want to stay at a cheap and favorable place.
Thus, this time we would like to introduce an amazing place to stay, which is recommended by Kasoku, which is a company that holds numerous hotels and guesthouses throughout Japan.
The Garden Hotel Premium TOJI is a low-cost and beautiful place right in front of one of Kyoto's famous temples,Toji.
GREAT AREA FOR TOURING KYOTO!
This hotel resides in the heart of Kyoto, making it the perfect place to stay if you want to be able to tour around the city.
Instagram-worthy views! Five-Story Pagoda right outside your window!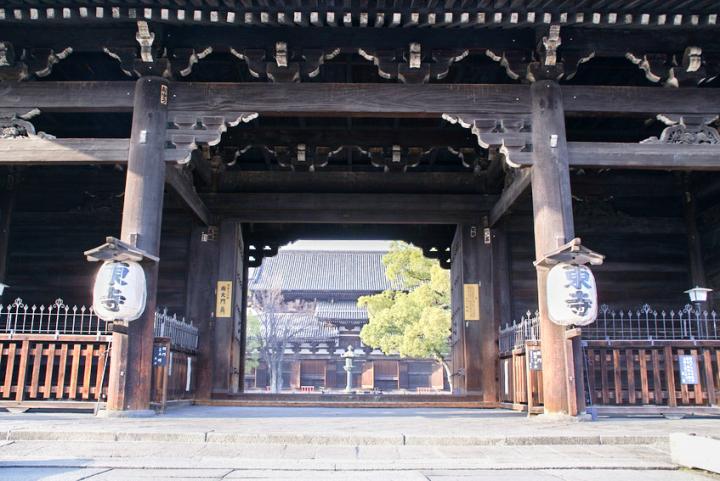 The Five-Story Pagoda is a worldly known national treasure and is located in Toji temple. This temple is a must-visit site when coming to Kyoto. The Garden Hotel Premium TOJI is based right in front of Toji temple. Toji temple is known to open their gates at one of the most earliest hours at 5AM. Since this hotel is right in front of the temple, you can beat the crowd and visit the site early in the morning. Breathe in the fresh morning breeze of the sacred temple and get a full day's worth of touring started!
Through this hotel, you can get a glimpse of the Five-Story Pagoda, and capture views that can only be seen through this hotel.
Watching the sunrise and sunset behind the pagoda is also highly recommended.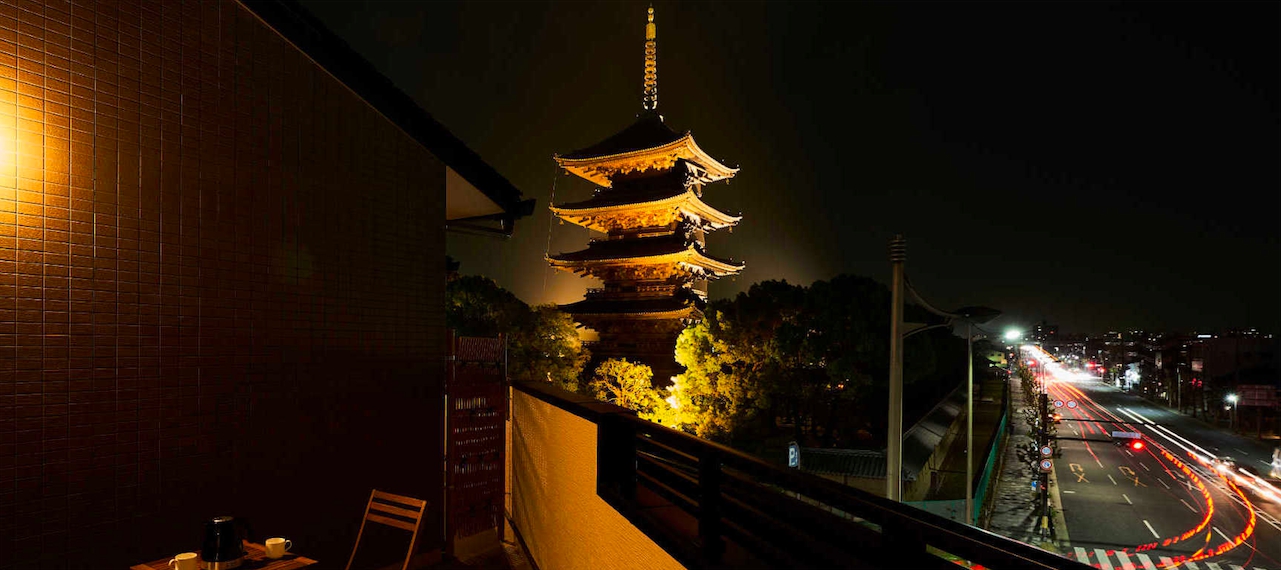 Excellent Spot for Touring Kyoto! Only 2min away from Kyoto station by train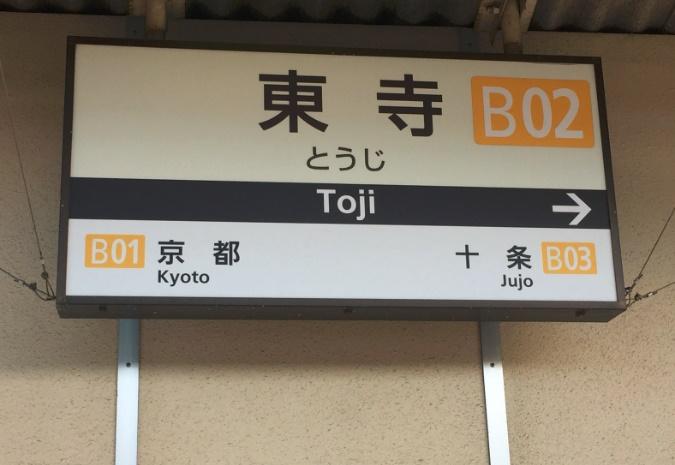 The closest station from The Garden Hotel Premium TOJI is Toji Station, only 6min away on foot.
Toji Station is only one stop away from the center of the city, Kyoto Station. Through Kyoto station you can easily access to other areas of Kyoto, making it very convenient for travel. If you like walking, Kyoto station is only about 20min away!
On the other hand, compared to the bustling area of Kyoto station, Toji station is surrounded by residential housing. Thus, the area is known to be nice and quiet.
Because Toji temple closes at 5PM, there are not much people roaming around the area.
Early bird gets the worm! Make sure to go to sleep early and get up in the AM in order to fully enjoy Kyoto!
The Garden Hotel Premium TOJI is the perfect spot to get your full days' worth in Kyoto.
Great access to Gion-Shijo and Fushimi Inari Shrine
One of the most famous spots many visitors got to are Gion-Shijo and Fushimi Inari Shrine.
Both sites are located on the end of the city spectrum, making it quite a burden to access to. However, The Garden Hotel Premium TOJI is close to Kyoto station making it a place for easy access to both sites.
Gion-Shijo and Fushimi Inari Shrine can be reached in about 30min, and Kyoto Tower Shijo-Omiya, which is famous for the many eateries within the area, as well as the Kyoto Aquarium can also be easily accessed.
LOW-COST, YET SUPER COMFORTABLE, TOP-KNOTCH AMMENITIES, LATE CHECK-OUT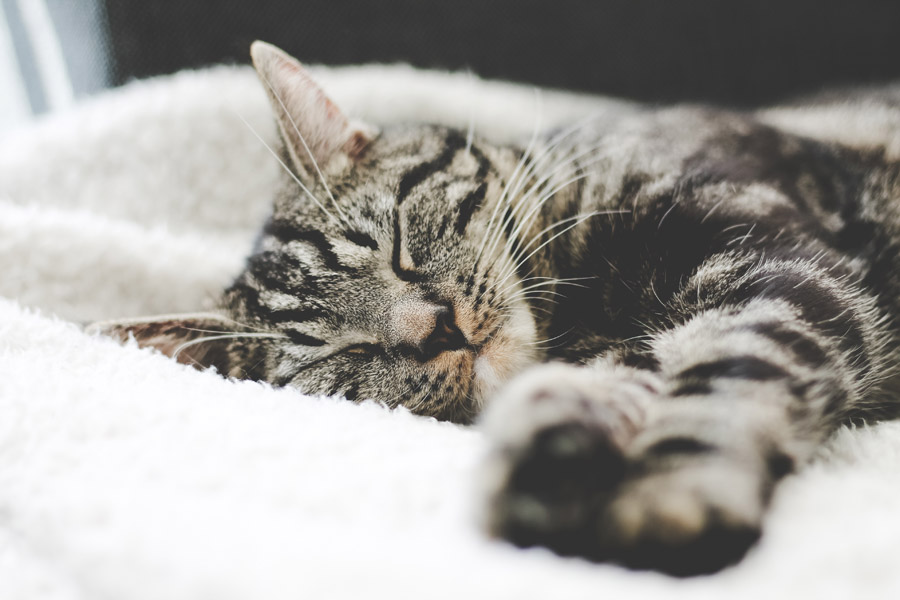 The Garden Hotel Premium TOJI is called a hotel, but uses dormitory styled beds, allowing prices to drop as low as \2000 per stay.
You might wonder, well if the location is great and prices are cheap, the facilities must be terrible.
Fear not! The Garden Hotel Premium TOJI is most particular about the facilities. Those doubts and worries will disappear once you stay for yourself. One of the points this hotel takes pride in are its beds. Many past guests have given high reviews about the beds as well stating "The beds were so comfortable, I wanted to stay in the bed all day."
With fully equipped amenities, you'll find everything you need.
You can also rent a bicycle at this hotel, if you want to cycle through the beautiful streets of Kyoto.
Amenities List
・toothbrush
・hairbrush
・slippers
・refrigerator
・TV
・shampoo
・conditioner
・body soap
・bath towel
・face towel
・hair dryer
・Humidifier with air purifier function
・tea set
・kettle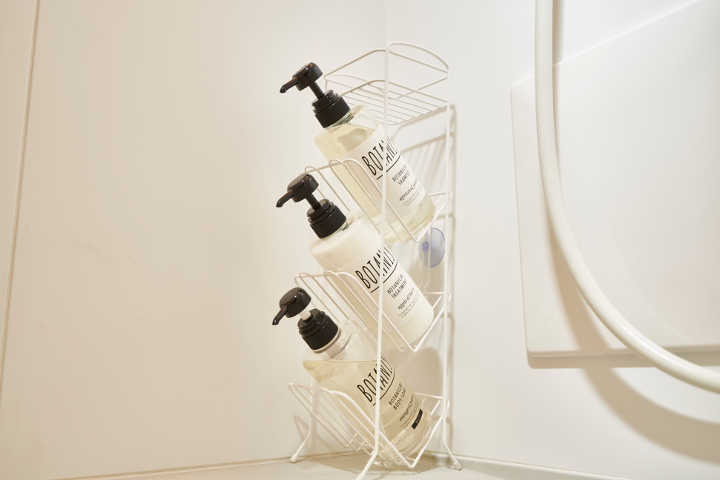 Late check-out is also a popular point of interest in booking The Garden Hotel Premium TOJI. The usual check-out time for hotels is 10AM. However, at The Garden Hotel Premium TOJI, check-out is 1PM, so you don't have to hurry in the early mornings.
RECOMMENDED FOR PEOPLE LOOKING TO MAKE NEW FRIENDS!
The Garden Hotel Premium TOJI s a fusion between a hotel and a youth hostel. There are private rooms like a hotel, as well as the common area where all guests can hang out and interact with one another.
When you have free time, you can visit the common area and get to know guests from foreign countries, and even befriend solo travelers.
While you meet new people from around the world, you can share tourist spots and maybe even travel together.
ROOMS THAT ANSWERS TO ALL YOUR NEEDS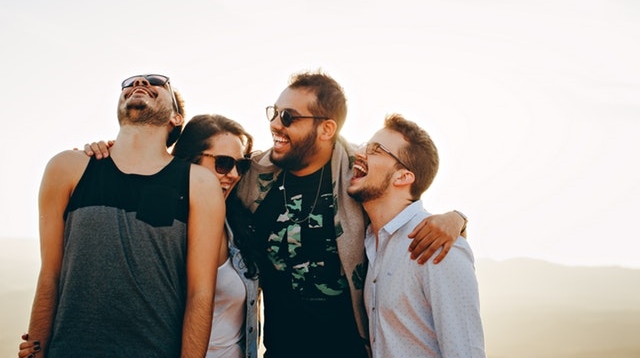 When looking for a place to stay, what you desire in a room differs from person to person.
"It's okay if it is a dormitory, as long as it's cheap."
"It's okay if it is cheap, but I want a private room."
"Since I'm travelling, I want to stay in a luxurious room."
"I want to stay in a hotel-like room, but also want to be able to meet new people."
etc. etc.
At The Garden Hotel Premium TOJI a variety of rooms are available to fit the needs of the customers.
From here we would like to introduce the rooms.
COMFORT DOUBLE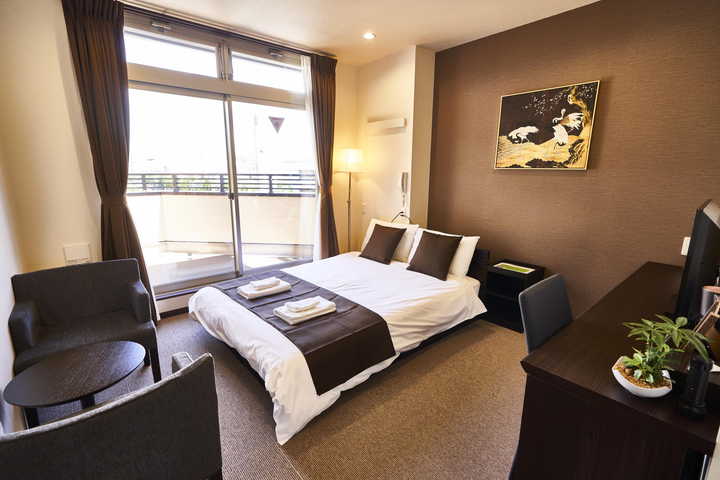 This is a private room that includes a double size bed. Ideal for couples who want a private space for themselves. Bathroom is also included in this room.
A balcony allows guests here to get a great view of the Five-Story Pagoda, so you can get a feel of Kyoto anytime right outside your window.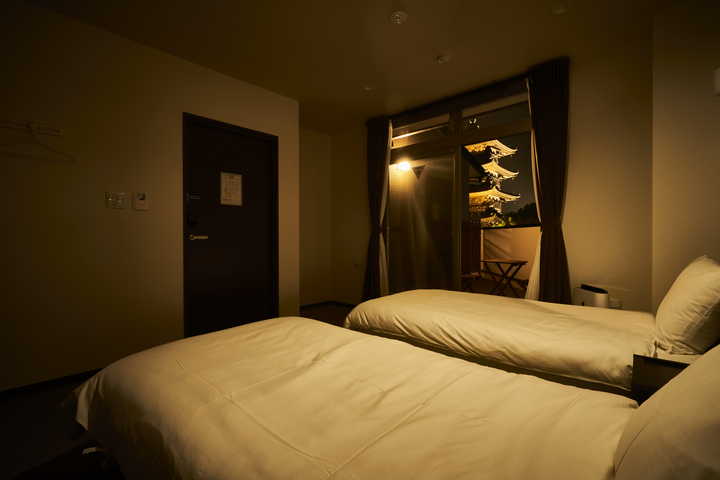 COMFORT TWIN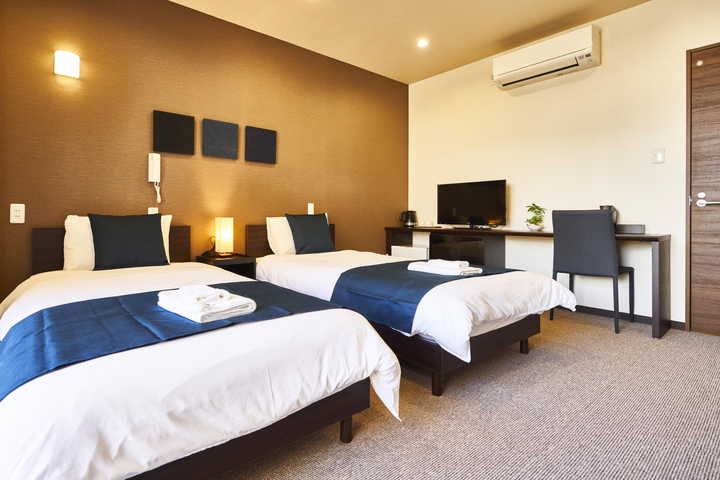 This room includes 2 single sized beds, perfect for staying with a friend!
The room also includes a private bathroom and a balcony to enjoy the scenic night views of the famous pagoda.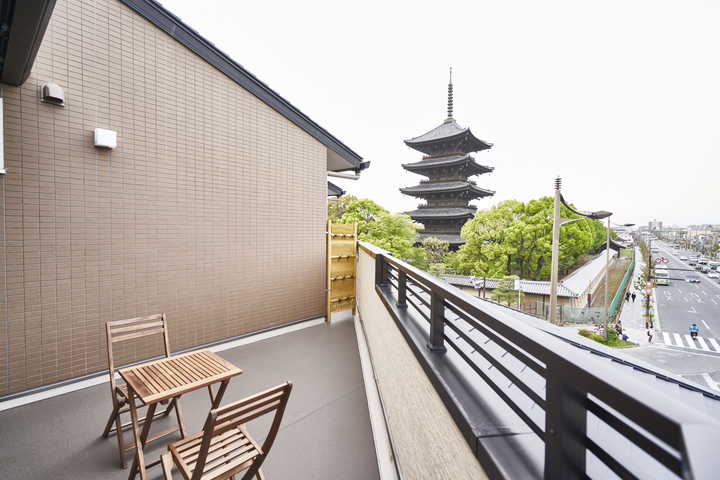 TWIN ROOM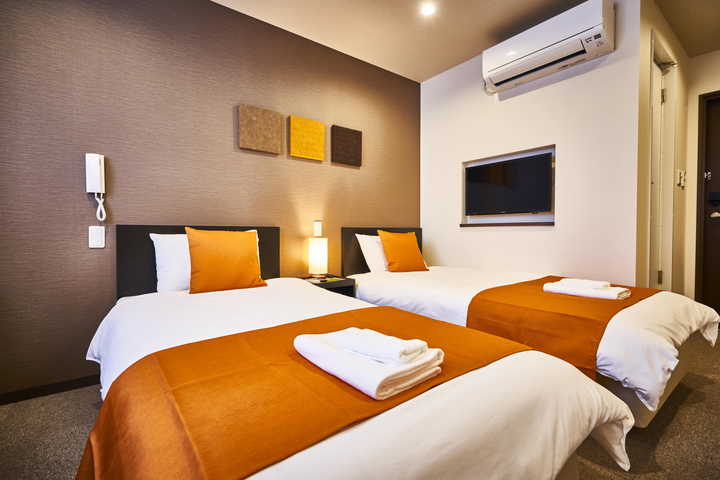 This room is similar to the Comfort Twin room, except without the balcony. Thus, the price of this room is lower and more affordable. You can still get a great view of the Five-Story-Pagoda through the window.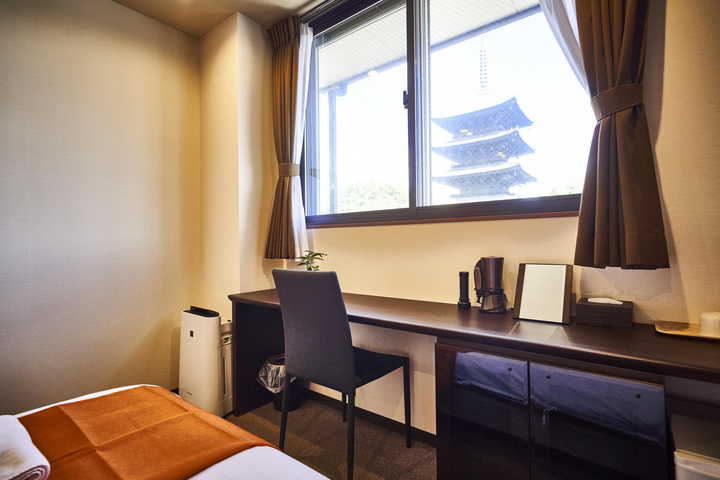 JAPANESE-STYLE ROOMS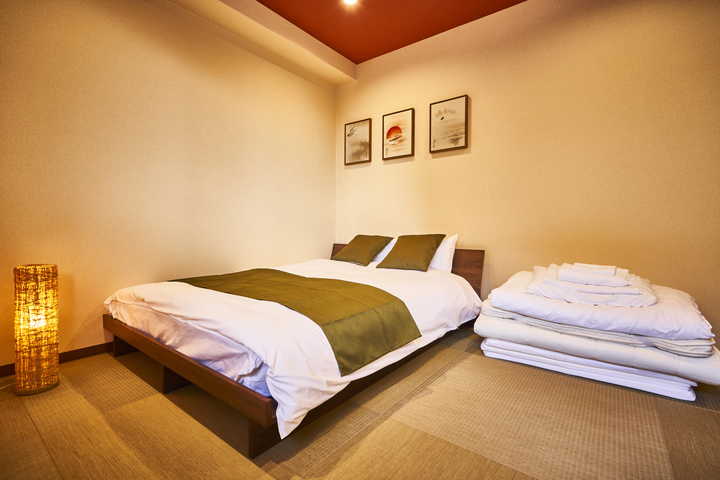 Popular amongst foreign guests, Japanese-style rooms are also available.
These rooms have the traditional Japanese tatami mats laid out across the floors, and Japanese artwork hung on the walls give you a very traditional vibe while staying in the room.
As many foreign guests dislike sleeping directly on the floor, a double-sized bed is placed in the room. However, for those who would like to experience the Japanese style futons, two sets are also prepared.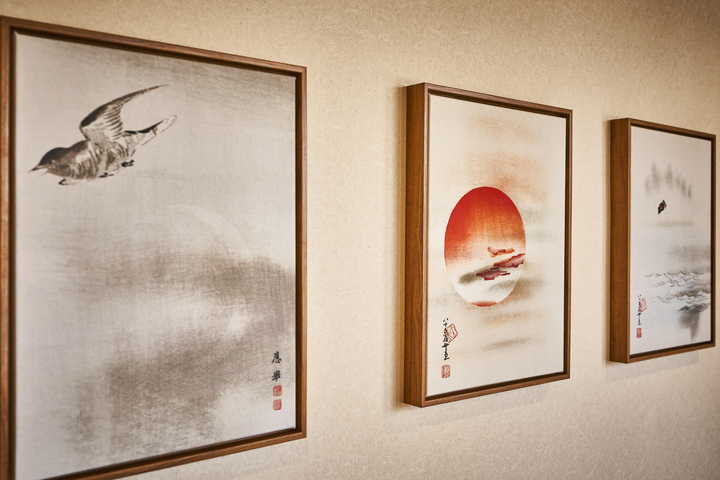 PRIVATE DORMITORY (SHOWER INCLUDED)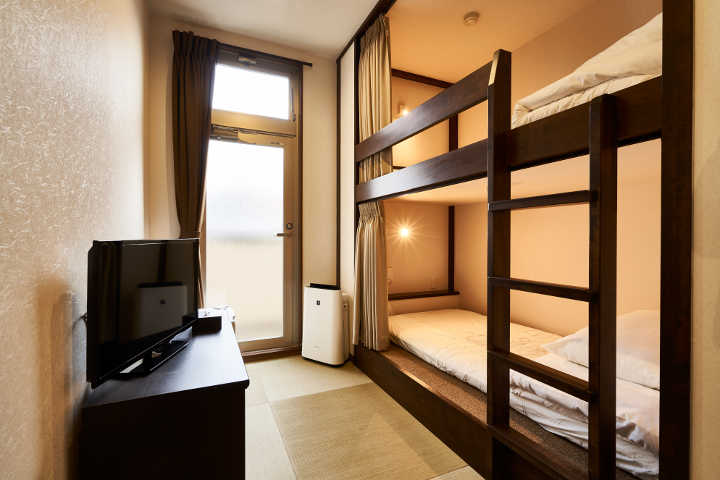 These dormitory style rooms include bunkbeds. You won't have to worry about stepping on cold floors because these rooms have the Japanese tatami mats laid out.
With the private showers in the rooms, there's no need to worry about taking too long in the bathroom, as you can spend as long as you want.
Recommended for people who want to stay in an affordable yet private room.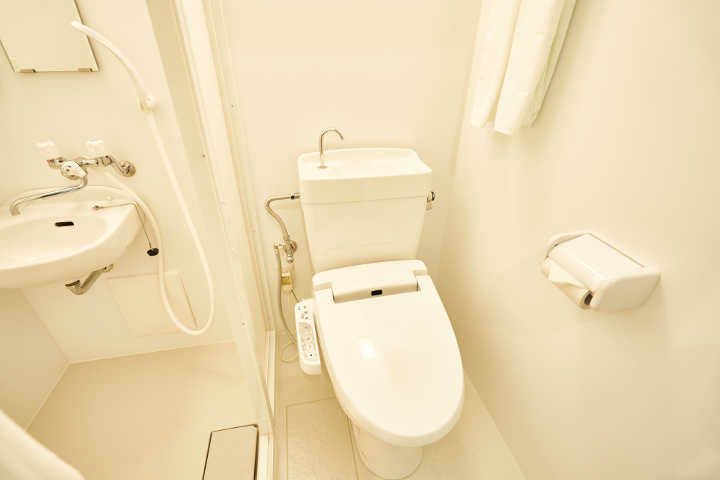 PRIVATE DORMITORY (NO SHOWER)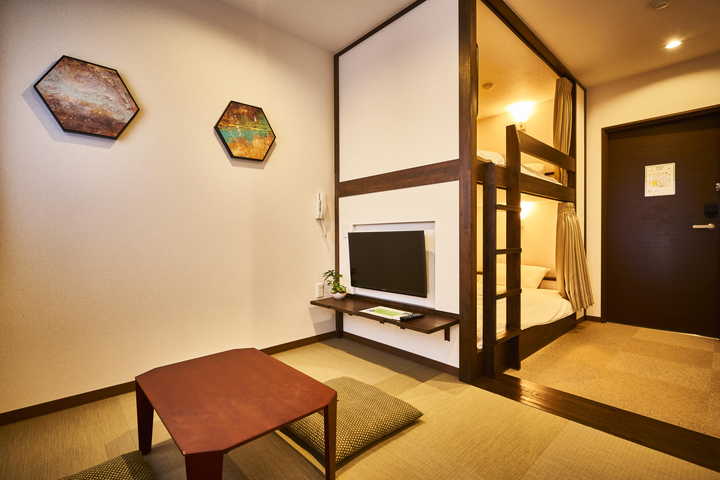 These rooms have single sized bunk beds. Although guests staying here are directed to use the shared shower facility, the rooms are more spacious so there is more room to relax and unwind from your busy touring day.
DORMITORY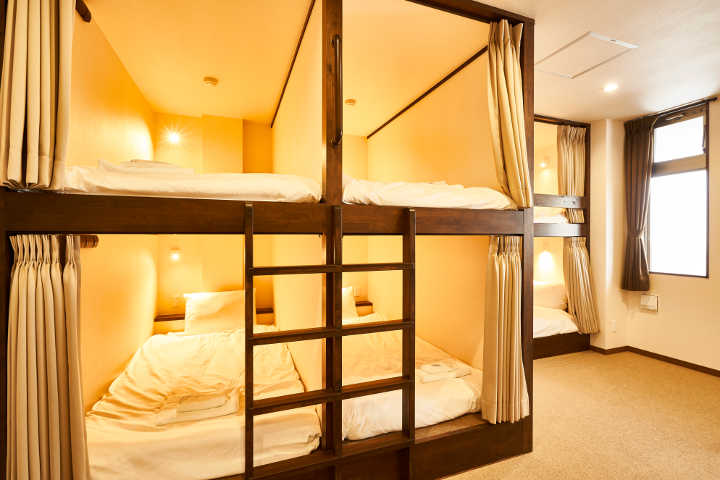 Dormitory rooms have 3 set of bunk beds.
If you're looking for a place to stay with a group of your friends, or are a solo traveler looking for a low-cost room, this is the one!
Shower and bathrooms are separated by sex.
COMMON FACILITIES
BOOK LOUNGE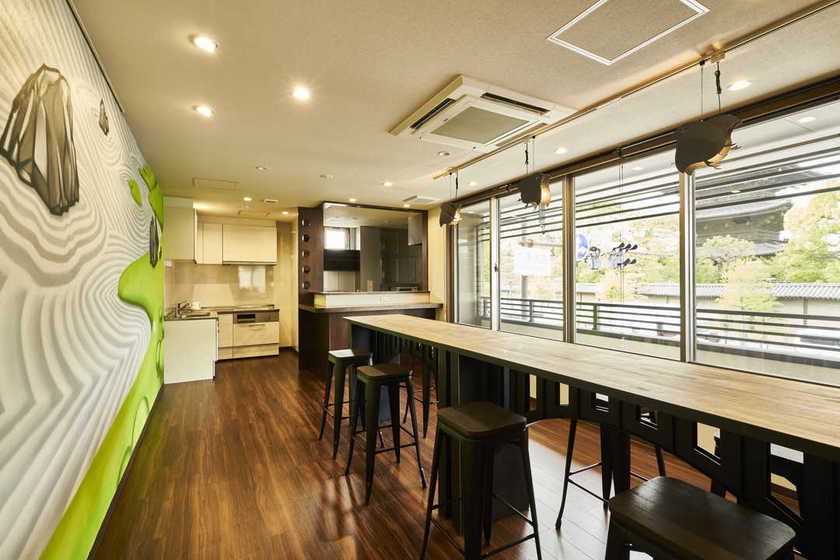 Here you can interact with other guests in this spacious lounge.
There is a coffee maker as well, so you can enjoy a cup while you have conversations about your travels.
Through the window you can glance at the Five-Story Pagoda as well.
KITCHEN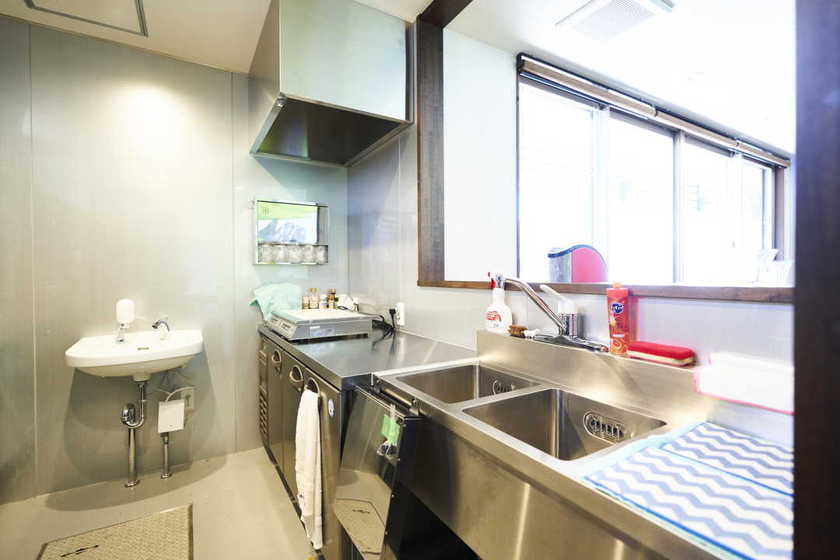 Guests are allowed to use the kitchen facilities at any time of the day. So, if you get the late-night munchies, or wake up super early and no shops are open, you can feel free to cook at the kitchen. If you are looking to save some money on food and cook for yourselves, we recommend this option.
COIN LAUNDRY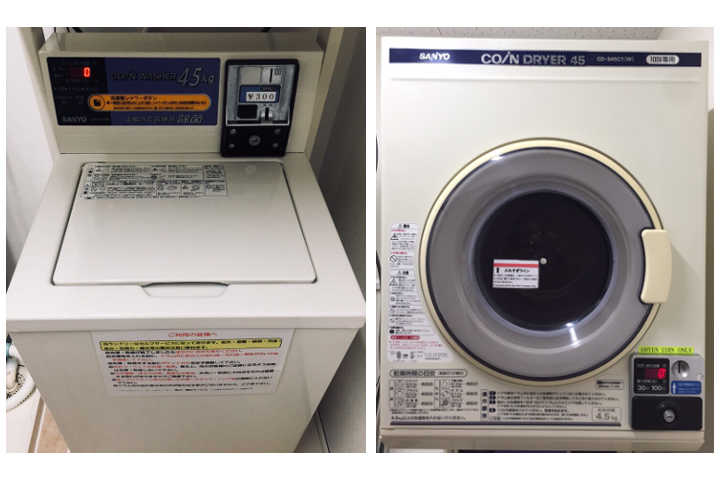 For those planning to stay for a while abroad, a laundry machine and dryer are prepared for your use.If you want to pack light, having a laundry machine at your place of stay is a plus!
BICYCLE RENTAL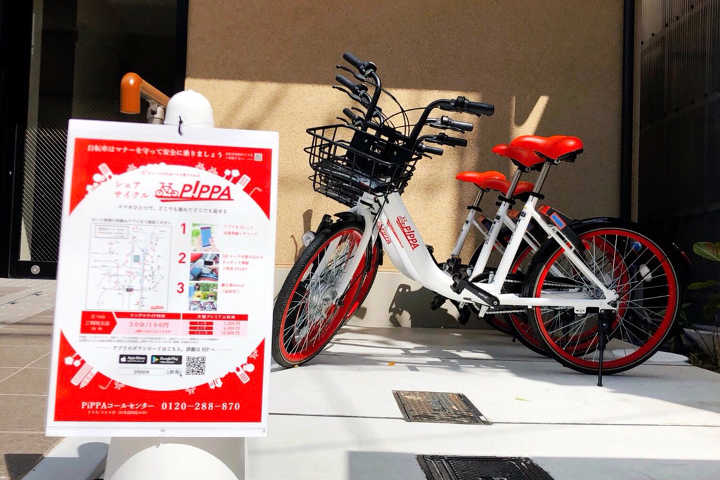 There are not many hotels where you can stay and rent bicycles, but here you can!
Riding a bicycle through the city can definitely cut down on your transportation costs. You can ride through the main areas of Kyoto on your bicycle, as the city is not so vast.
Live like a Kyoto resident and cruise through the streets of Kyoto!
WRAP-UP
If you're looking for an affordable and relaxing place to stay, The Garden Hotel Premium TOJI is the place to be.
With the perfect location and picturesque views, no matter which room you book, it's guaranteed not to disappoint.
The garden hotel premium Toji